I am in my hometown this week for my annual 1-week summer vacation. Usually I get to come here for 4th of July weekend because it's also my stepdad's birthday that week, but this year my mom and stepdad went to Alaska on a trip they won in a raffle.
My hometown isn't really even my hometown, it's just the place I lived the longest of all the places I lived so far. I lived here from age 3 to age 11, and then again in the summer when I was 17. My mom and her siblings bought my grandpa's house here when he moved, and we share it. It's in Myrtle Beach, S.C., the home of the TV show "Myrtle Manor," the ficticious home of Kenny Powers, the place where this happened tonight, where thong bikinis are banned but you're allowed to ride a motorcycle without wearing a helmet, a place with 250 golf courses and one college, the home of the Gay Dolphin and a Nascar theme park and a pyramid-shaped Hard Rock Cafe (where I saw Keanu Reeves' band Dogstar in 8th grade).
I am not really a beach person. I can get sunburned walking to my car in a parking lot. Plus, it's loud, it's filthy and also there are sharks. There used to be a few record stores and a few decent, divey music venues. Now there are no stores and just a handful of country venues. I come here to sleep late, eat at restaurants, go to the outlet mall for back-to-school work clothes for the fall and read books all day.
Today my mom and I went to my favorite divey burger joint. It's one of those places where you throw peanut shells on the floor and graffiti is encouraged and there are license plates on the walls. The beers come in bottles and the cocktails are 16 oz. and in plastic cups. There's a roll of paper towels on the table. They're a local chain, but only the original location, in its tiny, grimy glory,* is the one I go to. It's also directly across the street from the condo I lived in when I was a toddler here, which is behind a Krispy Kreme.
We got a booth inside, ordered large vodka-pink-lemonade drinks and burgers with fries. The waitstaff are mostly older women who have been doing this for years (not old in general, but old to be waiting tables in divey establishments, like, they're 40s/50s), and young guys (20s) working the bar and the line, which you can see from the restaurant.
I was wearing jeans and my 2014 Criminal Records Record Store Day t-shirt, which is an homage to the cover of "Goo" by Sonic Youth, released in 1990.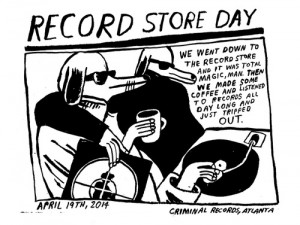 One of the kitchen guys dropped off some burgers at a nearby table, walked past us, stopped, turned back. "That's a great shirt," he said. "I really like it. And Sonic Youth are just mind-blowing."
"Thanks," I said. "Yeah, I really like them, too."
My mom looked surprised. Very rarely do people comment on my clothes, and if they do, it's on my t-shirt collection. A small selection of band shirts, 80s-era basketball t-shirts, indie record label shirts, Mystery Science Theater shirts (yes, I have two or three), WFMU shirts, college radio shirts, etc.
So yeah, this town is tacky, even a little trashy. And I've done some trashy things here (like once I heard "Single Ladies" being played at the outdoor stage in this little bar district area and ran there from the bar I was at, quickly organized a small group of ladies and led them in the "Single Ladies" dance. When the song was over, we group-hugged and I ran back to the bar I was at with my parents and their friends. And then I think I drove my stepdad's SUV home with the parking brake on.)
But every once in a while, somebody will say something that shows there is still some indie holdouts here. Not everyone is only listening to club beats. In every trashy tourist town, in some divey burger shack, there might be a line cook who wants to tell you your shirt is cool and they're real into Sonic Youth. I'm glad we were there for each other today.
Plus, I got to tell my mom a 10-minute history lesson on Sonic Youth and noise rock and post-rock in the early 90s.
It's the little things that get you through. Like for example tomorrow, I'm going to get a dip cone. That dip cone will get me through. Maybe we'll play some skee-ball, too, and ride the new giant ferris wheel. You know, vacation type things.
*Photo from this guy's blog, where he eats the peanut butter burger.